Food Trucks in Massachusetts
Signature Dish:
Zaaki serves middle eastern Koshari which is spiced lentils and rice, combined with chickpeas all smothered in a tomato sauce that's been spiked with vinegar topped with savory, crispy thin fried onion rings.
About Us:
We provide options for everyone. We have chicken, beef, vegetarian and vegan options. All of our food is Halal. We have 5 stars in Google.
Signature Dish:
Hot Mini Donuts
About Us:
DonutNV was started by dreamers, passionate about sharing sweets to make the world a sweeter place. These entrepreneurs took it upon themselves to break out of corporate America and instead pursue the sweeter side of life. To them, that's serving up the sweetest of mini donuts on the go, out of a cool blue truck roaming the streets of Massachusetts in style.

At DonutNV, they're frying up those mini donuts to order, topping 'em with the sweetest stuff they could find. From classics like cinnamon sugar and powdered sugar to all original creations including s'mores, french toast, strawberry shortcake Oreo and dirty and gummy worms, rest assured there's a sweet treat for every palate here. But that's not all. DonutNV also has seven varieties of fresh squeezed lemonades to wash it all down, along with hand crated donut sundaes. Sound too sweet to be true? Prove yourself wrong by finding DonutNV in Dickinson, or having 'em out to cater your next event. It's sure to be all the sweeter for it.

MUST TRY Chocolate Chocolate Chip — For you chocoholics out there, these mini donuts are drizzled in chocolate sauce and smattered in chocolate chips for a sweet experience you don't want to miss.
Signature Dish:
The Fire Grilled Cheese
About Us:
Bees & Thank You are experts in food truck catering with over a decade of experience. No event is too big or too exclusive for us. We offer a delicious gourmet grilled cheese catering menu including: pulled pork, pulled chicken, bacon, ham, as well as both gluten free & vegan options. Custom catering packages and specialty items are available upon request. We strive to provide the highest quality food truck experience to ensure that your special event is one people will remember!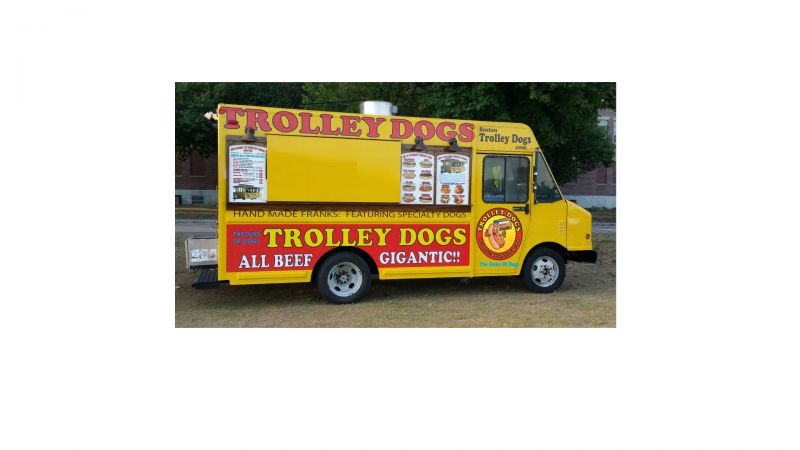 About Us:
Gigantic all beef hot dogs served on a toasted sub roll and topped with the most popular hot dog topping combinations across the country. We also serve golden fries with specialty toppings and we have a fresh squeezed beverage menu.

We can also serve any food requiring a fryer and flat top. About Us:
Ice Cream, slushees, milkshakes
Filter by Massachusetts Cities