Food Trucks in Boulder, CO
Origin:
Caribbean
,
Cuban
,
Mexican
,
Middle Eastern
,
Vietnamese
Categories:
Breakfast
,
Sandwiches
,
Taco
Tastes:
Asian Fusion
,
Vegan
Signature Dish:
Bahn Mi
About Us:
https://www.westword.com/restaurants/the-savage-beet-food-truck-15108352
Signature Dish:
Marinated Beef Bowl | Karaage Chicken Bowl | Umai Fries
About Us:
Our story begins here in Denver, Colorado. Friends and business partners Nelson Henry and Michael Spencer found themselves yearning to follow their dreams and create a delicious and memorable experience for the local mobile food market.

Nelson, an accomplished sushi chef at an established and respected sushi restaurant. Michael, a former Civil Engineer and business owner with a passion for business ventures and startups. The two come together to combine their talents to form this new and meaningful experience for you and this community.

Umai Express launched their first mobile food trailer in May 2022. Inspired to take the best of what they can offer as an express Japanese experience to be enjoyed in locations throughout Denver and surrounding neighborhoods.
Origin:
American (Traditional)
Categories:
Cheesesteaks
,
Sandwiches
Signature Dish:
Og cheesesteak
About Us:
Specialize in Cheese steaks
Www.geturphillyon.com
Origin:
American (Traditional)
,
Other
Categories:
Coffee
,
Cupcakes
,
Desserts
,
Ice Cream
,
Sweets & Treats
Signature Dish:
Habanero-Peach cobbler
About Us:
It all started when Anne was walking along at a street fair and thinking to herself, "I want some pie!" But there wasn't a slice to be had. She knew she had to do something.
So she enlisted the whole family and a short while later we had a vintage Yellowstone travel trailer modified to bring it, once the family started baking treats, it got weird from there.
Traditional flavors can all be found of course, but we like to bring you new combinations as well. So spicy habanero-peach for the heat lovers for starts, and small batch small pies are always changing.
We also like to bring an assortment of unique treats, krispie squares, brownies, clobblers, you never know what you might find. So come say hi and tell us what you'd like to see us whip up!
Origin:
American (New)
,
Mediterranean
Tastes:
Cajun/Creole
,
Comfort Food
,
Organic/Natural
,
Vegan
,
Vegetarian
Signature Dish:
Falafel and Hummus
About Us:
Who and why we are here...

We are Bill and Kate Bedortha, the happy and proud Owners of Rocky Mountain Wraps, in Conifer, CO. We spent over ten years running our Austin, TX based food company, Solar Falafel & Hummus bringing healthy food to the masses was our passion. Solar Falafel quickly became very well-known at festivals and events in Central Texas. Whether in the grocery stores of Texas or at the many Music Festivals, Street Fairs and Live Events across area, you would find us serving Grab n' Go Pita Wraps and Healthy snacks with a smile, made with love.

From Austin City Limits Music Festivals to Willie Nelson's Fourth of July Picnics, The Old Settlers Bluegrass Festivals to the Pecan Street Festivals on Austin's infamous 6th Street, you could find Solar Falafel serving hundreds to tens of thousands of hungry, music lovers to rave reviews!

We love music, people and healthy food and missed the action so after taking a few years off and putting down Colorado roots we decided to bring our scratch-made, family recipes to the people by opening Rocky Mountain Wraps in 2019.

Rocky Mountain Wraps survived and prospered through the COVID Pandemic because of the high standards of safety for our staff, our patrons and ourselves, while serving and expanding our quality products without skipping a beat!

Rocky Mountain Wraps participates in local community events along with Catering Banquets, Weddings, Large Family Gatherings, as well as JEFFCO Schools PTA/Staff Lunches on and off our menu, offering options for all dietary needs.

We are venturing back to our old roots and we would love the opportunity to bring our healthy fresh pita wraps which are hand held, ecofriendly and perfect for today's music lovers to our favorite venue, Red Rocks Park and Amphitheatre.
Origin:
American (New)
,
American (Traditional)
,
Latin American
Signature Dish:
Dillaz!
About Us:
The Story of Darleenz

As I sat at my kitchen table staring out the window into the busy morning of the city, I sipped my coffee and thought to myself



"This is it, I'm going to it."

Thinking back on the last few years and the extreme changes that were thrown my way I couldn't help but think that everything happens when it's supposed to and for reasons we can't quite comprehend.
Life is short, it's fragile, and when it ends it's devastating to those left behind. My aunt and uncle were, and still are two of the most influential people in my life and in 2018 they both were taken back home. We go through so many things, ups downs and everything in between during our very short years here and spending the last few as an ant marching on the highway, existing and going through the motions of the "daily grind" really put me in a low spot. I have always had a passion for food, the industry, the beautiful chaos of the kitchen and the smile on someones face as they take a bite of the food I've prepared. An itch to start my own food truck has always lingered in the back of my mind as well and for some reason, the passing of my amazing aunt sparked this passion once again.

I had really no idea even where to start, my mind was going crazy, I was sipping bourbon, listening to some Widespread Panic (they are my 2nd passion) and all of a sudden … Darleen'z..that was my food truck name.. Not really sure what I was going to make in that damn truck.. but the song Arleen (by Widespread) and my beautiful aunt Darlene.. well, those two just merged and it was right.. I smiled and sipped some more bourbon.

Not long after, having dinner with my friend Sarah at the Rock Bottom Brewery one night we were talking about food truck nonsense, concepts, names, etc. and she blurts out Dillaz, already knowing about Darleen'z. I had no words. Darleen'z Dillaz was born.

See you all out there.. I can't wait.

​

~Randall "RB"
Signature Dish:
Jägerschnitzel, Sauerkraut,
About Us:
German Food
Schnitzel, Brats, sauerkraut, red cabbage,Hungarian Beef Gulasch, Käsespätzle etc...
Mostly pork based meals.
Signature Dish:
Over Rice Chicken / Zapp Pork / Zapp Mama / Ho-Ra-Pa /
About Us:
We are a Thai family who loves cooking and serving the best Thai street food in the area.
About Us:
Philly cheese steak, Chicken philly, wings, fries, patty melt, pulled pork grilled cheese, cheeseburger, hot dogs. Coke and Pepsi products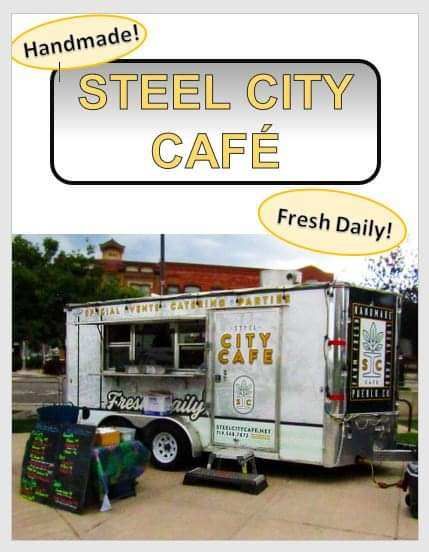 Origin:
American (Traditional)
,
Mexican
Categories:
Breakfast
,
Burgers
,
Desserts
,
Grilled Cheese
,
Hot Dogs
,
Salads
,
Soup
,
Sweets & Treats
,
Wraps
Tastes:
Asian Fusion
,
Cajun/Creole
,
Comfort Food
,
Soul Food
Signature Dish:
SCC Burger Perfectly chard grilled burger top with American and pepper jack cheese onions and bell peppers on top
About Us:
Chef Harvey's passion for food over the last 40 years has Inspired him to bring fresh prepared menu items that have a unique Flair.
Our motto is fresh DHL

About Us:
Award-winning Authentic Filipino Staples and Delights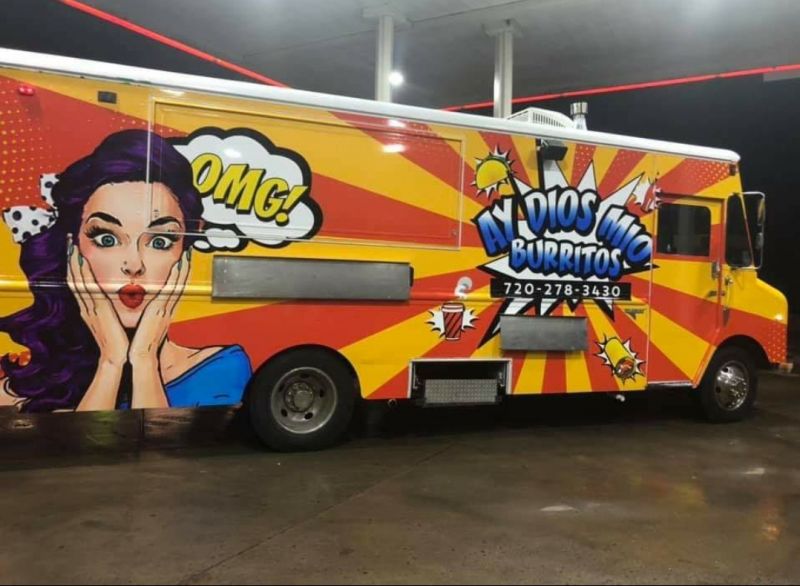 About Us:
Breakfast Burritos,Mexican food, hamburgers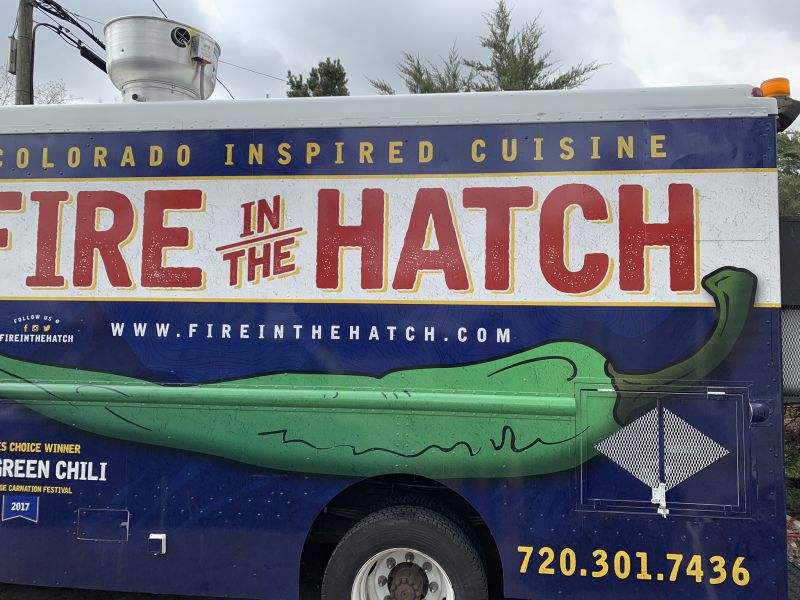 About Us:
Grilled wings
Green chili
Nachos
Fresh Cut Fries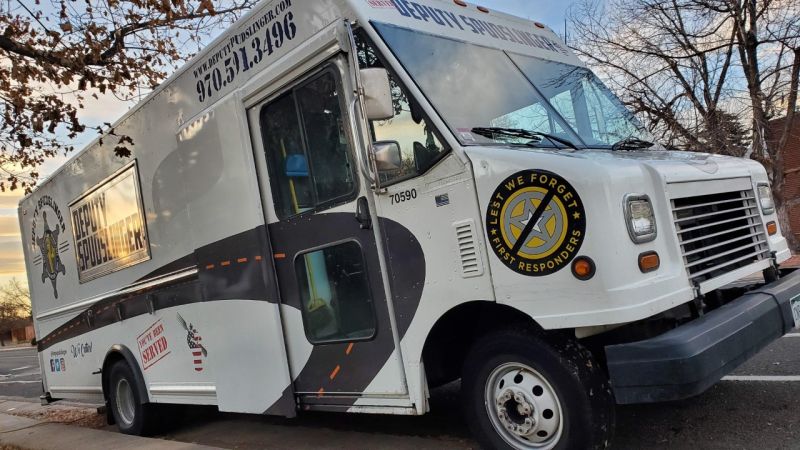 About Us:
American
-Chicken sandis and wraps, wings, loaded fries, chicken n waffles, nachos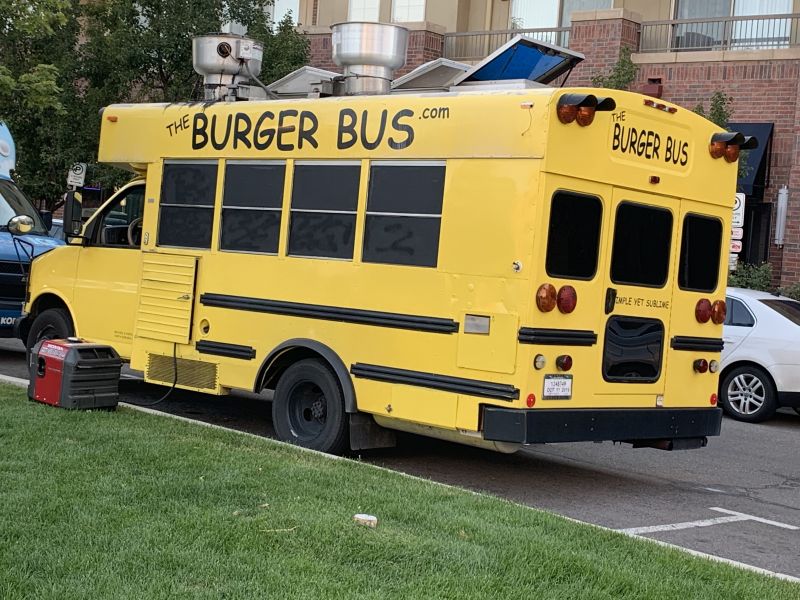 About Us:
Hamburgers
Sandwiches
Appetizers
Sides
Filter by Colorado Cities