Food Trucks in South Carolina
Signature Dish:
Matadors Arena Rice Bowl Big flavor is yours with this hearty and flavorful bowl. A bed of fluffy, cilantro lime rice is topped with seasoned black beans, your choice of perfectly seasoned proteins and finished off with spicy pico de gallo, creamy sour cre
About Us:
Tacos Olé is the colorful cousin of a hometown institution, your Basic Food Truck. A Texas-bred taco truck, Tacos Olé brings the bold spirit of the sultry south down south - or up north. Serving mouthwatering tacos and more, this charming truck has been serving up delicious flavors for many years, to diners at all kinds of events in Charlotte, Monroe, Columbia, Waxhaw, Rock Hill and beyond. When you book Tacos Olé for your next event, you'll get an impressive menu ranging from tacos as light as shrimp to hearty carne asada, plus burritos and quesadillas for true foodies. Not sure which to order? Check out their sampler pack!
About Us:
My kids are getting older and thought an ice cream truck was the perfect way to spend time together their summers home from college. I mean who doesn't love an ice cream truck!!
Categories:
Barbeque
,
Beverages
,
Breakfast
,
Burgers
,
Cheesesteaks
,
Chicken Wings
,
Coffee
,
Cupcakes
,
Deli
,
Desserts
,
Grilled Cheese
,
Hot Dogs
,
Salads
,
Sandwiches
,
Seafood
,
Smoothies
,
Soup
,
Sweets & Treats
,
Taco
,
Waffles
,
Wraps
Signature Dish:
Pull bbq
About Us:
I started my food truck business over fifteen years ago while operating a restaurant. I asked myself " how can I get my products to people without them coming to me" ? Mobile food truck came to my mind then I put the plan to work, afterwards so May people followed me. I love cooking delicious food. I use my heart while cooking. Cooking is my passion.
Signature Dish:
Sausage & Cheddar Kolach
About Us:
We are Air Force veterans wanting to take on a new challenge and invest back into our local community. We believe a good cup of coffee can brighten anyone's day. We also want to share some of our home state goods with South Carolinians, introducing the Texas-Czech Kolach, an upscale pigs in a blanket.
About Us:
We started with one small location and decided to bring something fresh that was fast and incredibly tasty! The idea is to allow each member of any family to order their food however they want it and have it customizable for even the most picky of eaters.
Signature Dish:
Not Fried Chicken Ice Cream
About Us:
Life Raft Treats was founded by Cynthia Wong, a six-time James Beard Foundation Award semifinalist for Outstanding Pastry Chef. Life Raft celebrates the ice cream truck goodies of yesteryear by reinventing them with humor and artisan techniques. We make everything we serve using excellent, locally-farmed dairy, eggs, and produce. We are devoted to sparking joy and surprise through our unique, passionately crafted ice cream and sweets, and we are dedicated to providing exceptional service. Life Raft Treats proudly operates the only award-winning, chef-driven artisan ice cream truck in South Carolina.
About Us:
We are family owned and operated business. We started during the pandemic as a way for families to come out and eat while maintaining social distancing. Patrons can drive up to the truck or walk up to the service window. Our food is fresh made to order.
About Us:
Wood-fire pizza for any event!
Signature Dish:
Collard green egg rolls
About Us:
We have created a perfect fusion of one of the most popular cuisines in the US. Cajun soul food with Hibachi.
We Also cater custom menus Cajun, soul food, and others.
Signature Dish:
Kingston Nachos, Hawaiian Stack
About Us:
Global Flavors. Local Favorites.
Signature Dish:
Whoo Dat Chili and Cheese
About Us:
Jumbo All beef Hot dogs and gumbo Creole inspired
About Us:
Cheese steaks, shrimps, wings, tenders hot dogs, fish fries, onion rings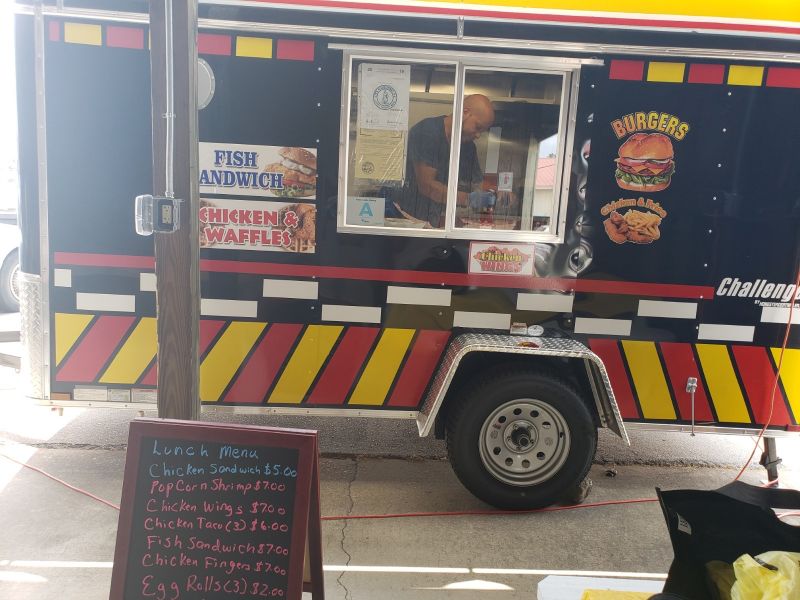 About Us:
Hamburgers, hot dogs, fish sandwiches, French fries, popcorn shrimp,egg rolls, chicken sandwich, chicken fingers About Us:
Chicken plates, hot dogs, Funnel cakes, fries
Filter by South Carolina Cities